About three years ago a friend gave me a set of springform pans in three different sizes. It was a great gift and I knew right away that baking a cheesecake had to be in my to do list, but why it took so long its beyond me.
As many of you know I love desserts, but I have never intended baking a cheesecake before. Maybe the fact that it could sink if not baked properly or crack, oh my, very nervous already!
My resolution was that the year 2010 wasn't going to end without me baking a cheesecake and the search was on. I immediately went to Food Network and fell in love with a recipe from Giada De Laurentiis.
Mascarpone Cheesecake with Almond Crust
(recipe adapted by Giada De Laurentiis)
Ingredients
Crust:
1 cup slivered almonds, lightly toasted
2/3 cup graham cracker crumbs (about 4-6 crackers)
3 tablespoons sugar
1 tablespoon unsalted butter, melted
Filling:
2 (8-ounce) packages cream cheese, room temperature
2 (8-ounce) containers mascarpone cheese, room temperature
1 1/4 cups sugar
2 teaspoons fresh lemon juice
1 teaspoon vanilla extract
4 large eggs, room temperature
Topping:
I drizzled some caramel sauce on top of the cheesecake
Directions
Preheat oven to 350 degrees F.
Tightly wrap the outside of a 9-inch diameter springform pan with 3 layers of heavy-duty foil.
Finely grind the almonds, cracker crumbs, and sugar in a food processor. Add the butter and process until moist crumbs form. Press the almond mixture onto the bottom of the prepared pan (not on the sides of the pan). Bake the crust until it is set and beginning to brown, about 12 minutes. Set aside to cool.
Decrease the oven temperature to 325 degrees F.
Using an electric mixer, beat the cream cheese, mascarpone cheese, and sugar in a large bowl until smooth, occasionally scraping down the sides of the bowl with a rubber spatula. Beat in the lemon juice and vanilla. Add the eggs, 1 at a time, beating just until blended after each addition.
Pour the cheese mixture over the crust in the pan. Place the springform pan in a large roasting pan. Pour enough hot water into the roasting pan to come halfway up the sides of the springform pan. Bake until the center of the cheesecake moves slightly when the pan is gently shaken, about 1 hour 5 minutes.
Transfer the cake to a rack; cool for 1 hour. Refrigerate until the cheesecake is cold, at least 8 hours and up to 2 days.
Top the cheesecake with some caramel sauce like I did, a chocolate hazelnut spread (nutella mixed with whipping cream) like Giada did in her original recipe or some fresh fruit.
Now for the fun part, let me show you the final result of my very first cheesecake!
I wanted to bake it before the year 2010 ended and so I did, but my husband was starting to fast as soon as 2011 kicked in so he wanted a piece right away. If you read the recipe or have baked a cheesecake before you know that it needs to cool for a couple of hours before cutting in to it. Well, that didn't happen in my case.
Don't judge, I love my husband and if I had to cut into it for him to taste because he couldn't taste it after that day, well that's what I'll do. And I did! Take a look.
A little cleaner. My daughter ate the missing part.
A view of the side:
What? That you want a slice, well here it is. Enjoy!
Note:
The mascarpone cheese is very creamy and delicious. It is the cheese used for tiramisu and made this cheesecake feel like if you were eating the sibling of a tiramisu and a cheesecake. Super creamy!Keep in mind that mascarpone is a little costly compared to cream cheese (at least in my neck of the woods it is), but for flavor and smoothness it was worth every penny of it.
The baking time was very accurate, it did bake beautifully for an hour and 5 minutes. All the ingredients married perfectly and the taste was just outstanding.
If you are looking for a great cheesecake look no further, this is IT! Thanks to Giada de Laurentiis for a great recipe, I completely loved it and so did my family and friends.
Try this recipe and share with family and friends, it's so worth it!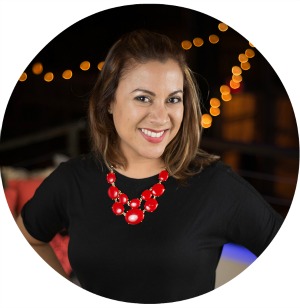 Hi there! I'm Wanda – the creator and author at My Sweet Zepol a healthy food, travel, and lifestyle blog. Passionate about food photography, food styling, entertaining and advocate about creating memories around the kitchen table. With a mission to create easy-to-make meals for the busy family.