Nathalia's Sweet Sixteen Gift Box Cake
My friend was celebrating her daughter's sixteenth birthday and gave me a call to make her a cake. Since she was presenting her daughter, Nathalia, with a ring we thought that a gift box was very appropriate. The cake had to hold the ring in its box between the lid and the box part of the cake. Beautiful!
There is a very special story behind the ring that Nathalia was receiving. The ring was representing a promise from her to her parents and family also known as a purity ring. We are a christian family and learning from young girls that make this promise to their parents is very emotional, specially to me since I have 2 little girls.
I feel that as time goes by it gets even more challenging to keep our kids in the path where they not only learn our values as parents, but God's values and have respect to his word (biblical). My goal as a mom is to teach this things to my girls, always keeping in mind that at the end of the day they will make there own decisions and learn from them.
I did want to share this with all of you, because it has a special meaning to me and it's also a very sweet practice to see happening from girls in the 21st century.
Returning to the cake:
It was a delicious PuertoRican Cake, which is a cake made with a simple syrup with brandy or amaretto. Depending your desire! The cake was covered with fondant and had a lid similar to a gift box and a bow on top. The colors where a teal blue/green with cream bow and ribbons. I also bought a stamp that said "Sweet Birthday Wishes" and stamped the box and lead. The tissue paper was also stamped with a cupcake design.
My friend asked for an antique but girly looking box so I decided to use some gold luster dust. Ended up looking like a gift wrapper, very cute. I completely loved it.
It also made me very happy when Nathalia told me that she loved it and was very surprised not only by the cake, but by the ring inside. Seeing my friends grow into sweet young women fills my heart with joy.
I am very proud of Nathalia and wish her many blessings in her future! And a very Happy Birthday!!!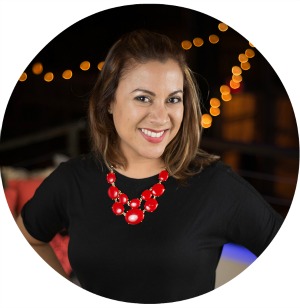 Hi there! I'm Wanda – the creator and author at My Sweet Zepol a healthy food, travel, and lifestyle blog. Passionate about food photography, food styling, entertaining and advocate about creating memories around the kitchen table. With a mission to create easy-to-make meals for the busy family.