Nothing says Halloween like candies, mummies, witches, black cats, and the occasional spider web decor. Maybe I'm missing something or a lot but at the end of the day do Halloween however you wish. We made some cute and delicious mummy meringue pops to start our #HalloweenTreatsWeek. This post and recipe was created for #HalloweenTreatsWeek! I was sent samples by some of the sponsor companies but as always opinions are 100% mine.

For the past decade or longer we have been celebrating what we call "Mandy Night", which is movie and candy night while the neighborhood kids are out collecting candy door to door. Every year we plan out the movies we'll see and the candies we'll consume. It's all sorts of fun and the girls love it! You can read more about our "mandy night" palooza here. In the meantime, grab the recipe for our Mummy Meringue Pops and have a party with your kids!
Mummy Meringue Pops
Yield: 10-12 pops

Prep Time: 25 minutes

Cook Time: 1 hour

Passive Time: 2 hours

Total Time: 3 hours 25 minutes

Nothing says Halloween like mummies and we got some delicious ones for you, they melt in your mouth. Have you seen cuter Mummy Meringue Pops?
Ingredients
1/4 cup Meringue Powder, (from Wilton)
1/42 cup Ice Cold Water
1 cup Sugar, (we used Dixie Crystals)
White Chocolate Candy Melts, (from Wilton)
Candy eyes, (from Wilton)
Paper Straws, (from Sweets and Treats)
Instructions
Heat the oven to 250 degrees.
Begin making your meringue pops by adding the meringue mix and the cold water into a mixing bowl.
Using a stand mixer or hand mixer, whip the water and meringue mix on high speed until the consistency is light and fluffy, about 10 minutes. The mix should start to form stiff peaks.
Line a baking sheet with parchment paper. Place paper straws with 3-4 inches apart. Using a decorating bag and a 1M tip pipe the meringue mix going back and forth, left to right until you reach just above half-way down the straw.
Bake in the oven for 1 hour, then turn off the oven and let the meringues cool in the oven for about 2 hours.
Once the meringues have fully cooled, melt the white candy melts in the microwave in 30-second intervals until fully melted.
Place the candy eyes in place. Drizzle white candy melts over the meringue pops and under the eyes to keep in place.
Let cool completely. Enjoy!
Meringue pops are super easy to make and can be customized into any theme of your choice. Think birthday parties, baby showers, weddings, and any holiday of your choice. We are in love with the way our mummy meringue pops turned out. They are super cute and not at all creepy!
We used meringue powder, candy eyes and white candy melts from Wilton, sugar from Dixie Crystals and paper straws from Sweets & Treats.
Happy Halloween! It's October which means it's time for Spooky Season and this year's #HalloweenTreatsWeek event! #HalloweenTreatsWeek is hosted by Angie from Big Bear's Wife & its a creepy and haunting week-long event is filled with some amazingly wicked Halloween treats, recipes and some frightfully fun giveaways.
"When witches go riding, and black cats are seen, the moon laughs and whispers 'tis near Halloween."
For the 2nd annual #HalloweenTreatsWeek event we have 41 fantastically talented bloggers that are sharing their favorite Halloween recipes throughout the week! There are going to be over 160 Halloween themed recipes shared during this year's #HalloweenTreatsWeek and we can't wait for you to see them all! Follow the hashtag #HalloweenTreatsWeek on social media and look at the bottom of each post to see all of the Halloween recipes that we're sharing!
Plus, don't forget that we have 6 (six) great giveaways for you this week thanks to our amazing sponsors!
Scroll down to take a look!
Prize #1
Prize #1 — Dixie Crystals is giving away a "Dinner and Dessert Set" – ONE 6-Quart Cook & Carry Programmable Slow Cooker, a Pyrex mixing bowl set plus some fun Dixie Crystals items like a Dixie Crystal Apron and Cookbook!
Prize #2
Prize #2 — Adam's Extract is giving away – 1 Gift Pack – including 4oz Adams Best, 1.5 oz Peppermint, 1.5oz Almond, 1 bottle vanilla cinnamon sugar, 1 bottle pumpkin pie spice
Prize #3
Prize #3 —Wilton is giving away a Texturra 7-Piece Bakeware Set
Prize #4
Prize #4 — Sweets and Treats Shop is giving away a large baking box of goodies! Sweets and Treats will send one lucky winner a large assortment of sprinkles and lines and other samples of their products!
Prize #5
Prize #5 — Treat Street USA is giving away a set of Holiday Treat Decorations (1 Gummy Assortment, 1 Marshmallow Snowman, 1 Toy Solider and 1 Gingerbread Men)
Prize #6
Prize # 6– Litehouseis giving away the following: 1 Litehouse® Honeycrisp Apple Cider, 1 Litehouse® Old Fashioned Caramel, 1 Litehouse® Pumpkin Spice Caramel, 1 Litehouse® Butterscotch Caramel & 1 Litehouse® Chocolate Dip, Snack Packs
Giveaway open to US Residents 18 years or older. All entries will be verified. No PO Boxes Please. Prizes will be sent directly from sponsors to winners, bloggers are not responsible for prizes. This giveaway runs from October 7th – October 13th at 11:59PM EST. Winners will be selected soon afterward and contacted by e-mail. Winners will have 48 hours to respond or a new winner will be chosen. There are a total of 6 (six) prizes and therefore we will have a total of 6 (six) winners. No purchase necessary. Void where prohibited by law.
Disclaimer: These posts and recipes are part of the week-long event, #HalloweenTreatsWeek but all opinions are 100% mine! We would like to Thank our amazing sponsors: Dixie Crystals, Adam's Extract, Wilton, Sweets and Treats Shop, Treat Street USA and Litehouse! These wonderful sponsors provided the prize packs for our giveaways and also sent samples and products to the #HalloweenTreatsWeek bloggers to use in their recipes.
Check out the amazing #HalloweenTreatsWeek recipes from our bloggers today!
Tell us how do you celebrate Halloween?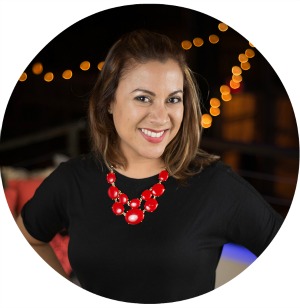 Hi there! I'm Wanda – the creator and author at My Sweet Zepol a healthy food, travel, and lifestyle blog. Passionate about food photography, food styling, entertaining and advocate about creating memories around the kitchen table. With a mission to create easy-to-make meals for the busy family.