Sometimes figuring out what to cook is just a pain. One of the reasons I started blogging was to record all my recipes in one place and another reason was to be able to inspire other amateur cooks like myself to cook something at home for them and their family with as little hassle as possible.
One of the things that is working for me is to plan a weekly meal, but to be honest, some weeks I just don't feel like cooking and ditch making the meal plan at all. This week I went with a meat that could be good in many ways. Pepper steak. You can have it as a stir fry with veggies and noodles, on a wrap with greens or even with brown rice on the side. If you have another great way you love having your pepper steak with, please let me know in the comments below, I'll love reading more options to try with my family.
Here's my recipe for Pepper Steak, it's a trial and error out of many other recipes and my twist added to it. That's the beauty of food, it's personal and everyone has their own take of whats their favorite. So far this is the best pepper steak I have had and got great compliments, go ahead and give it a try, then let me know what you think.
Pepper Steak
(recipe by Wanda Lopez, My Sweet Zepol)
Ingredients
1 pound Beef Top Sirloin (cut into about 1/8 inch strips)
1/4 cup Soy Sauce
2 tablespoons Sugar
2 tablespoons Cornstarch
1/2 teaspoon Ground Ginger
1/2 tablespoon Worcestershire Sauce
1 clove Garlic  (minced)
3 tablespoons Canola Oil
2 Bell Peppers
1 small Onion
1/2 cup Mushrooms (mixed)
Directions
Mix together the soy sauce, sugar, cornstarch, ground ginger, worcestershire and garlic in a bowl. Add in the steak strips (coat the meat with mixture) and marinade while you work on the other steps.
Cut the peppers and onion into strips.
Heat one tablespoon of the oil in a large skillet over medium heat. Toss in the peppers, onion and mushrooms. Cook until onion is a bit tender (not completely translucent).
Remove the veggies from the skillet and set aside.
Heat another tablespoon of oil in the skillet and start cooking the beef strips into two or three batches. Cook until the beef is well brown, about 2-3 minutes. Remove that batch and repeat until you have finished cooking all the meat.
Return the cooked beef, the peepers, onion and the mushrooms into the hot skillet and cook for an additional 3-4 minutes.
Serve over brown rice, make it into a wrap, or toss it into a bowl of noodles. Make this pepper steak your own.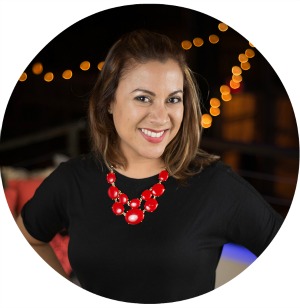 Hi there! I'm Wanda – the creator and author at My Sweet Zepol a healthy food, travel, and lifestyle blog. Passionate about food photography, food styling, entertaining and advocate about creating memories around the kitchen table. With a mission to create easy-to-make meals for the busy family.