Granola is that snack I go to over and over again. Is super easy to make, can be made into large batches and can be used in a wide variety of recipes. Add some granola to yogurt and enjoy a very good for you breakfast, add to your salad and have a healthy lunch, add to some fruits and vanilla ice cream and you won't regret having dessert. Can you see why I love granola? Versatile doesn't do it justice.
During this fall season I decided to bring in some of those earthy flavors into my granola mix. Now it's your turn to make a batch of your own. Follow the recipe and you got it!
Pumpkin Pie Spice Granola
Pumpkin pie spice is just about everywhere during this Fall season. Make it count with this easy to make granola. Nutty flavors, dried cranberries and candied pumpkin seeds. Perfection!
Ingredients
3 cups Old Fashion Oats
1/4 cup Flax Seeds
1/4 cup Chia Seeds
1 teaspoon Pumpkin Pie Spice, find the recipe on the link in the instructions section below
Pinch of Salt
1/3 cup Honey
1/2 teaspoon Vanilla Extract
2 tablespoons Coconut Oil, (melted)
1 cup Candied Pumpkin Seeds, find the recipe on the link in the instructions section below
1/2 cup Cranberries, dry
Instructions
Heat oven to 350 degrees.
Here's the recipe for the Pumpkin Pie Spice
Combine all the ingredients, except candied pumpkin seeds and cranberries, in a large bowl. Mix until all ingredients are completely coated with the honey and coconut oil.
Tip: This is a great job for kiddos to help with, incorporate your kids in the kitchen and you'll start noticing a higher appreciation for food and a sense of pride. They just made something with mamma (or daddy) in the kitchen!
Bake for 20-25 minutes or until granola is fragrant and golden brown.
Gently stir about halfway through the cooking time.
Remove from oven.
Stir in the candied pumpkin and dried cranberries.
Here's the recipe for the Candied Pumpkin Seeds
Let cool and enjoy.
Store in airtight container.
Tip: Store up to one week, but honestly it won't last that long.
I like to make granola as often as possible to snack on. It makes me feel like I am making better snacking choices and taking care of my body. Specially before the holidays peeks-in and some parties starts rolling in. Which means potlucks and more hearty dishes. My weight is like a yoyo and I am working hard on it. Bringing my body to it's healthiest weight and maintaining a good healthy habit (and meal plan) is a working progress in my life, but I'm getting better at it as time goes by.
Please share with me, what do you enjoy snacking on? Do you love your granola with something else?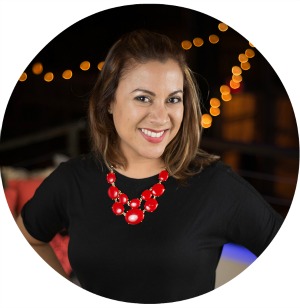 Hi there! I'm Wanda – the creator and author at My Sweet Zepol a healthy food, travel, and lifestyle blog. Passionate about food photography, food styling, entertaining and advocate about creating memories around the kitchen table. With a mission to create easy-to-make meals for the busy family.