| | |
| --- | --- |
| | |
First of all, heat the oven to 375 degrees.

In a large bowl; mix flour, sugar and salt. Cut in butter until crumbly.

Gradually add water, tossing with a fork until dough holds together when pressed.

Wrap in plastic and refrigerate for 1 hour or overnight.
Remove the dough from the fridge, place it on a lightly floured surface.

Roll the dough starting at the center and working outward. When fully rolled out, loosen with a spatula and lift the pie crust into a 9 inch pie pan. Tip: You can roll the pastry over the rolling pin, lift it onto the pie pan and unroll it.

Gently press the dough against the corner of the pan and tear off any excess dough. Then tuck under the edges and go around the pie pan pinching the dough to crimp the edge.

Line pastry with foil, fill with dried beans and bake for 8 minutes. Once baked, remove foil and weights and bake for 5 more minutes. Cool on a wire rack.

For the pie filling: In a bowl; mix the apples, lemon juice, granulated sugar, apple pie spice, flour and salt.
Cut the butter into the flour with a fork or pastry cutter. Then add in the light brown butter, oats and salt.

Finally, add the apples to the prepared pie shell and top with the crumb topping.

Bake for 60 minutes, covering the edge of the crust with foil so it won't burn too quickly.

Remove the pie from the oven and our the caramel over. Allow to cool slightly before serving.

Enjoy with a spoonful of whipped cream or a scoop of vanilla ice cream; some coffee and others around you to share this greatness of a pie with.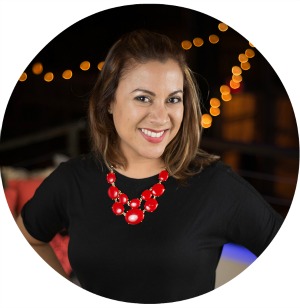 Recipe Developer / Food Photographer / Social Media Influencer
Making memories around the kitchen table and capturing them with my camera is where you'll find me. Unless I'm boarding a plane or on a road trip somewhere with my girls.