Celebrating life is one of my favorite things to do. Specially birthdays. In our home we don't just stay in a one day thing, we party for an entire week. Well, we don't literally party for an entire week. We go out and do different things like go on a picnic at a beautiful park, have brunch in a special place, go to one of Disney's parks or what ever the birthday girl or boy wants to do.
For years I baked the birthday cake, and then we started buying them. This year something had me wanting to bake a cake for my birthday and instead of making a heavy frosting I wanted something lighter. That's where the cream cheese whipped frosting came to mind. You'll love this light, airy, smooth and creamy whipped filling with fresh berries. It's the perfect summer cake. Here's the recipe. Make it, share it and make it your own celebration cake.
| | |
| --- | --- |
| | |
Make the red velvet cake according to the package. Note: I baked the cake in 2 (8inch) pans.

Divide the batter in two round 8 inch cake pans.

Bake using the cake mix instructions.

Once cool, cut each cake in half.

Take the softened cream cheese and mix it with the powder sugar, until it's completely creamy.

Top each layer of cake, including the top of the cake with cream cheese whipped cream and fresh berries.

Sprinkle with powder sugar.

Note: Refrigerate any left over.
Cakes are much easier to make than you may think. Even if you haven't given it a try, or you are an experienced cake maker, this cake recipe will be one of your favorite for years to come.
Celebrate life, celebrate those special to you and make memories that will last a lifetime.
What's your favorite cake flavor? I love chocolate and red velvet.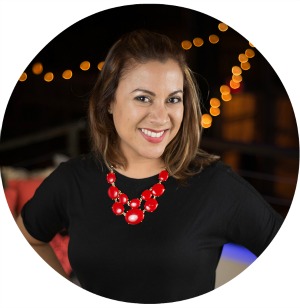 Recipe Developer / Food Photographer / Social Media Influencer
Making memories around the kitchen table and capturing them with my camera is where you'll find me. Unless I'm boarding a plane or on a road trip somewhere with my girls.