The first time I tasted lentil salad was during a trip to Salt Lake Utah with a good friend of mine. We always got in the phone for a weekly prayer. This was such a refreshment to our souls. It helped us put into the world what we wanted to accomplish and hold each other accountable, plus cheer us on during life's difficult times. We all have those days from time to time. When she mentioned about bringing the salad to enjoy during the plane ride I was intrigued and excited. I already loved lentils, but hadn't tasted it on a salad before. I just love how dishes come into our lives. Whether it's at a new restaurant, a potluck or a made by a good friend. Do you agree?
Lentils are one of my favorite grains. I love them as soup, salad and on their own with some rice and meat. Yes, you read right. On a typical Latin kitchen table you will usually find different dishes, like rice, cooked beans, and some salad, bread with a smear of garlic or a fried side like tostones. YUM! Hungry! I'm more inclined towards lighter dishes and that's why I'm sharing with you this very refreshing lentil salad.
Refreshing Healthy Lentil Salad
A refreshing lentil salad, with the crunchiness of the cucumbers, the softness of the lentils, a subtle aftertaste of the cilantro, the combination of flavors from the balsamic vinegar, olive oil and seasonings makes this light salad one to make over and over again. Toss in some of your favorite cheese and make it your own!
Ingredients
1 cup Lentils, dried, sorted and rinsed
1/2 cup Red Onion, chopped
1/4 cup Fresh Cilantro, chopped
1/2 cup Red Peppers, chopped
1 cup Cucumbers, diced
For the Balsamic Vinaigrette
3 tablespoons Balsamic Vinegar
2 tablespoons Extra Virgin Olive Oil
2 teaspoons Dijon Mustard
1 Garlic Clove, minced
Salt and Ground Pepper, to taste
Instructions
Bring 2½ cups of salted water to a boil.
Stir in lentils, reduce heat to a simmer, and cook uncovered until lentils are tender (about 18-20 minutes).
Tip 1: Water should cover the lentils by about 1 inch.
Tip 2: Stir occasionally.

Drain and let cool for 5 minutes.
To make the vinaigrette: Combine the balsamic, EVOO, mustard and garlic together. Season with salt and pepper to taste.
Tip: if you want a thinner vinaigrette add a tablespoon of water.
Place lentils and balsamic vinaigrette in a large salad bowl. Toss until it is well combined.
Enjoy chilled or at room temperature!
You can make this salad with any grain of your choice. Think, chickpeas or cannellini beans, pure goodness! Make this lentil salad your own. Change the herb to one of your liking, add your favorite cheese, or swap the cucumber for peppers. Have fun with recipes and enjoy new combinations of flavors and textures. You may be surprised with the outcome. I know I have in more than one occasion.
Share with me, do you like lentils? If so, what is your favorite recipe? Maybe you haven't tried them before; this can be a great day to make a small batch and give them a try.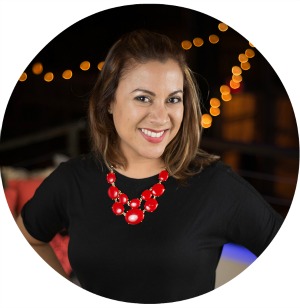 Hi there! I'm Wanda – the creator and author at My Sweet Zepol a healthy food, travel, and lifestyle blog. Passionate about food photography, food styling, entertaining and advocate about creating memories around the kitchen table. With a mission to create easy-to-make meals for the busy family.