There is nothing like enjoying food with family and friends. This month we are celebrating Hispanic Heritage Month and what better way than with a table full of the food that reminds us of back home and surrounded by family and friends. One of our favorite and go to meals is Sriracha Grilled Chicken Taco Bowls with Creamy Avocado Sauce. There's something about grilled chicken seasoned with a Sriracha marinade plated inside a taco bowl. I'll show you how to make it!
My mom always serves meals with a refreshing drink by its side. You can't have an amazing meal without an amazing drink to go with it, my mom's favorite is a refreshing Coca-Cola™. Everyone loves the feeling of opening a cold Coca Cola bottle and sipping it while eating, enjoying great conversations and having a great time around the kitchen table. Meals are always a favorite in our house. I bet you can relate too.
Sriracha Grilled Chicken Taco Bowls with Creamy Avocado Sauce
Yield: 8 servings

Prep Time: 25 minutes

Cook Time: 20 minutes

Total Time: 45 minutes

Grilled chicken marinated with a sriracha, honey and garlic sauce served in a taco bowl drizzled with a creamy avocado sauce is the perfect way to end any day.
Ingredients
8 Flour Tortillas, I used Guerrero Tortillas
2 Chicken Breasts, without bone, split in half
Salt and Ground Pepper, for seasoning
3 tablespoons Sriracha
2 cloves garlic, minced, or paste
2 tablespoon Honey
2 cups Green Lettuce, I used Romaine Lettuce
2 medium Carrots, cut into matchsticks
1 medium Red Onion, thinly sliced
Creamy Avocado Sauce
1 Avocado, peeled and pitted
1/2 cup Sour Cream
1 juice Lime
2 cloves garlic
1/4 cup Fresh Cilantro
Salt and Ground Pepper, to taste
Instructions
Easy Taco Bowls
Turn a muffin pan upside down.
Spray each tortilla with a cooking spray.
Nestle a tortilla in the space between 4 cups to form a "bowl."Repeat with 3 more tortillas, making 4 bowls total.
Bake until firm and beginning to brown, about 10 minutes.
Transfer to a wire rack to cool. Repeat with the remaining 4 tortillas.
Creamy Avocado Sauce
Place all the ingredients in a food processor or blender.
Process until smooth and creamy consistency, stopping to scrape down the sides a few times.
Keep in an airtight container for 1-2 weeks.
Sriracha Grilled Chicken
Combine the honey, sriracha, and garlic together. Set aside part of the sriracha sauce, about 1 1/2 tablespoons. Add the remaining to the chicken and let stand for 15 minutes (or up to 1 hour) to marinate.
Prep the lettuce, carrots and onion. Set aside.
Grill the chicken about five minutes per side. Once grilled, let them sit for 5 minutes before cutting them into strips.
Grab a taco bowl, assemble with some lettuce, carrot sticks, grilled chicken strips, drizzle some creamy avocado sauce and some honey sriracha garlic sauce.
Repeat until you have made all 8 taco bowls.
Nutrition Information:
Yield: 8 Serving Size: 1
Amount Per Serving: Calories: 356Total Fat: 12gSaturated Fat: 3gTrans Fat: 0gUnsaturated Fat: 7gCholesterol: 34mgSodium: 668mgCarbohydrates: 48gFiber: 5gSugar: 11gProtein: 16g
Several of my uncles grow avocado trees in Puerto Rico and we enjoy them as they are and integrated into our meals. Imagine a slice of avocado with sea salt inside a piece of bread. It's a great snack. Those thoughts takes me back to my beautiful island and my mom's kitchen, that's why I always try to include avocados in our family meals. Cooking with some of my mom's favorite spices and flavors takes us all back to our Latina culture.
How are you celebrating Hispanic Heritage Month? And what are your favorite dishes that takes you back to your roots? Tacos and fresh ingredients always does it for me with a cold, just out of the refrigerator, Coca Cola. Go and visit the Serve with a Coke site for more Coca Cola love!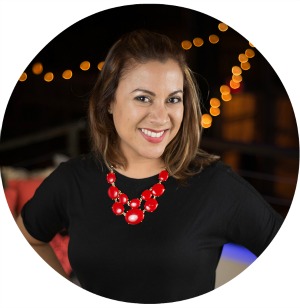 Hi there! I'm Wanda – the creator and author at My Sweet Zepol a healthy food, travel, and lifestyle blog. Passionate about food photography, food styling, entertaining and advocate about creating memories around the kitchen table. With a mission to create easy-to-make meals for the busy family.