Winter is my favorite season of them all. The chilled weather, all the sparkle and lights in the neighborhood makes this time of the year so special. I just love the Holidays! We celebrate the birth of Jesus and give thanks everyday for our Lord!
Right before Thanksgiving we go out and search for the perfect Christmas Tree to place in the middle of the living room. It's a family affair. This year we made some strawberry, mango and vanilla ice cream smoothie instead of hot cocoa and got everything ready to decorate the tree. It was my oldest daughter's idea to make the smoothie and we all liked it. It was a good change. We live in Florida anyways!
While getting our tree we spotted a shopping cart full of branches. My daughter asked the employees if they were going to trash them. They were, and we got the opportunity to bring some home for a couple of DIY projects.
Take a look at what we made with this branches.
Door Wreath – a couple of branches tied to a square frame I normally use to decorate our door and a big sparkly red bow. Simple and beautiful!
Kitchen Centerpiece – this is my favorite of all my DIY projects. Some branches made this small Christmas Tree perfect for the kitchen.
Dinning Table Centerpiece – This ceramic vase is one I normally use to display my wooden spoons in the kitchen. I thought it was the perfect piece to use for this DIY project. This branches are more free form, but still perfect decorated with silver ornaments. A simple, very inexpensive and still elegant centerpiece for our dinning room table. Now, all I need is to change the runner. I'm working on that! 😉
All three projects were done with the branches shown previously and still had some branches left over. My daughter made a small tree for her bedroom.
Go over where they are selling Christmas trees and ask if you can take some branches home, I'm sure you can make some amazing DIY projects with items you already have in your own house.
Now, a sneak pick at our Christmas Tree, it's almost 9 feet tall. We love it!
What family traditions do you have? Do you decorate a natural tree or use one from a box? No judgement here! Anything goes. The most important part of the Holidays is remembering Jesus birth and the memories you share amongst your loved ones!
Happy Holidays!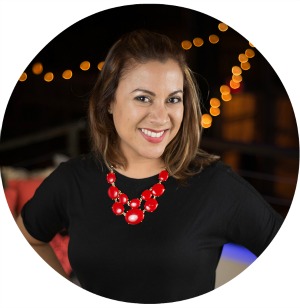 Hi there! I'm Wanda – the creator and author at My Sweet Zepol a healthy food, travel, and lifestyle blog. Passionate about food photography, food styling, entertaining and advocate about creating memories around the kitchen table. With a mission to create easy-to-make meals for the busy family.