"This post and recipe was created for
#SummerDessertWeek
! I was sent samples by some of the sponsor companies but as always opinions are 100% mine."
Summer is all about fun food that are often enjoyed outdoors and often during gatherings. The more the merrier. Right? Think fairs, BBQ's, bonfires at the beach or during summer camp. One of our favorite summer treats are churros. Are you ready for the ultimate churros ever? Bellow is the recipe for the best chocolate churros ever and you'll just love the way they smell and taste. Trust me when I say, this one will be your absolute favorite churros ever!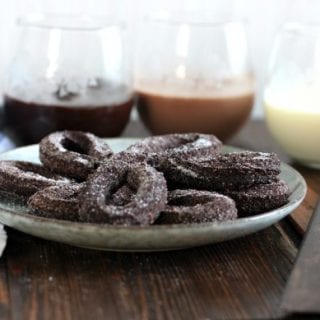 The Best Chocolate Churros
Yield: 10

Prep Time: 20 minutes

Cook Time: 30 minutes

Total Time: 50 minutes

Transform the traditional churros recipe into a very exciting one by making the best chocolate churros ever! Take dessert to the next level! #SummerDessertWeek
Ingredients
1/2 cup Sugar, Dixie Crystals
2 tablespoons Unsweetened Cocoa Powder
1 teaspoon Ground Cinnamon
1/4 cup Unsweetened Cocoa Powder
3/4 cups All Purpose Flour
1 cup Water
1 1/2 cups Sugar, Dixie Crystals
1/2 teaspoon Salt
2 tablespoons Vegetable Oil
1/2 teaspoon Vanilla Extract, Adam's Extract
2 quarts Vegetable Oil, for frying the chocolate churros in
For chocolate sauces
3 1/2 ounces Milk Chocolate, for the sauce (optional)
3 1/2 ounces White Chocolate, for the sauce (optional)
3 1/2 ounces Dark Chocolate, for the sauce (optional)
1 1/2 cups Heavy Cream, divided to make three sauces (optional)
Instructions
Combine 1/2 cup sugar with 2 tablespoons of unsweetened cocoa powder and 1 teaspoon ground cinnamon and set aside.
Next, mix the all purpose flour and unsweetened cocoa powder until well combined and set aside.
In a small saucepan over medium heat, whisk together the water, sugar, salt and vegetable oil. Bring the mixture to a boil then remove it from the heat. Stir in the flour mixture, mixing until it forms a ball. Let it cool a bit before working with it.
Heat 3 to 4 inches of vegetable oil in a large, heavy-bottomed pot set over medium-high heat until it reaches 375 degrees.
Using a pastry bag and a large star pastry tip start pipping the chocolate churros to your liking. They can be straight sticks, round shapes or any other shape you like. Tip: Maybe hearts for Valentine's Day! Yes, I know, it's all in the imagination. Go for it!
Another tip: I pipped the chocolate churros onto a large plate and transferred them into the oil to fry on small batches. This process made it more comfortable and easy to work with.
Cook for 3 minutes turning after 1 minute. Remove from oil with slotted spoon: drain on paper towels.
Add warm churros to sugar mixture you have set aside. Toss to coat evenly.
Make the chocolate sauces
Warm the heavy cream in a small saucepan, do not let it bowl. Pour the heavy cream over the chopped chocolate of choice. Let it sit for 1 minute then stir to combine.
Dip each chocolate churro into the chocolate sauce of your choice and enjoy!
Sponsored items used in this recipe:
Check out other easy treats and snacks recipes on my blog!
We love bringing people together and summer is one of the best seasons for it. The kids absolutely love running around, being outdoors, jumping into the pool and eating everything on site. That's why making easy treats and snacks is a must during this season. Who wants to be in the kitchen all day? NO one!
This post is part of an celebration. What's better? Maybe nothing else other than there's a giveaway and more recipes bellow. Stay a little longer and welcome to the 2nd Annual #SummerDessertWeek event hosted by Angie from Big Bear's Wife. This sweet week-long event is filled with fun dessert recipes from amazing bloggers and some great giveaways from our generous sponsors! We can't wait to share all of these summer-themed desserts with y'all and celebrate summertime sweets all week long!
Check out the amazing #SummerDessertWeek recipes from our bloggers today!
Ice Cream Recipes:
Pies of Summer:
Sweet Summertime Cakes:
No-Bake Treats:
Baked Desserts:
Sweet Sips:
There are 23 wonderful bloggers participating in this year's event! With over 60 recipes being shared this week we just know that you're going to find a new summer favorite!
Disclaimer: These posts and recipes are part of the week-long event, #SummerDessertWeek but all opinions are 100% mine! We would like to Thank our amazing sponsors: Dixie Crystals, Adam's Extract, Red Star Yeast, Susquehanna Glass Co. and Lodge Cast Iron! These wonderful sponsors provided the prize packs for our giveaways and also sent samples and products to the #SummerDessertWeek bloggers to use in their recipes.
What's your favorite summer treat? Maybe chocolate churros!!! Share with me in the comment section below.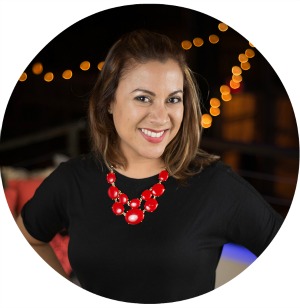 Hi there! I'm Wanda – the creator and author at My Sweet Zepol a healthy food, travel, and lifestyle blog. Passionate about food photography, food styling, entertaining and advocate about creating memories around the kitchen table. With a mission to create easy-to-make meals for the busy family.