Tilapia is a favorite fish in our house. It's not only super easy to cook, it takes well just about any seasoning you want to cook it with, and it's also very accessible. It is sold just about everywhere and at an affordable price too. The easiest way to cook a tilapia fish is by seasoning with some salt and pepper and lightly fry it over a tablespoon of olive oil for about 5 minutes in one side and 3 on the other and voila' you have yourself a nice main dish.
This tilapia dish is baked in the oven and the results are phenomenal. I personally love the addition of flavors the sweet peppers gives this tilapia. I have made tilapia with many seasonings and many sides, but this Tilapia with Sweet Peppers is my favorite one of them all. I'm sharing with you the recipe so you can try it at home. This dish takes very little time to prep, it's also a light meal and you can pair it with your favorite side. It can easily be a nice salad menu. You choose.
Tilapia with Sweet Peppers
(Recipe by Wanda Lopez, My Sweet Zepol)
Ingredients
5-6 Tilapia (adjust to your need of servings)
1 teaspoon Salt
1 teaspoon Ground Pepper
2 tablespoons Olive Oil
1 cup Red, Orange and Yellow Sweet Peppers (about 2 of each)
Directions
Preheat oven to 375 degrees.
Place the tilapia on a sheet or deep dish.
Season with salt and pepper.
Add the sweet peppers.
Coat everything with the olive oil.
Bake for 35 minutes or until the fish is white and flakes when pulled apart with a fork. Keeping an eye on the sweet peppers so they don't burn too much. Toss them around in between baking time if necessary.
Enjoy!
I paired my tilapia with Yuca (Cassava) and Broccoli. Broccoli is one of those vegetables that I always keep in my fridge. To give the dish some body and still keep it as light as possible. Broccoli goes well with just about any main dish and my girls loves to eat it, which is always a plus for me.
But if you want to add even more texture to your fish dish you can add some creamy au gratin potatoes, like in this picture below. Now we are talking!!!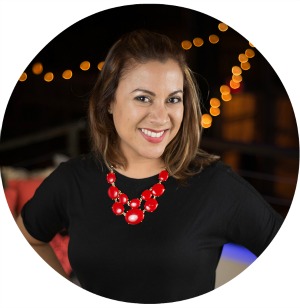 Hi there! I'm Wanda – the creator and author at My Sweet Zepol a healthy food, travel, and lifestyle blog. Passionate about food photography, food styling, entertaining and advocate about creating memories around the kitchen table. With a mission to create easy-to-make meals for the busy family.