Baking is one of my love languages. And baking cookies are my favorite kind of baking. Are you a baking addict or do you just enjoy eating the baked goods?
Chocolate is one of those sweets I crave the most after any meal. I am usually looking for different ways to add chocolate to my desserts. Then I came across a chocolate cookie recipe that was pretty good. It just needed a little more, you know, chocolate. That's where the threat part comes into play. These cookies are extremely addictive, don't say I didn't warned you. I know you will enjoy them and will wish you had made more when they are all gone.
Triple Threat Chocolate Cookies
Triple threat chocolate cookies are addictive in every level. You've been warned!
Ingredients
1 1/3 cups Chocolate Chips
1 cup All Purpose Flour
1/4 cup Baking Cocoa Powder
1 teaspoon Baking Soda
1/2 teaspoon Salt
1/2 cup, (1 stick) Butter, (softened)
1/2 cup Light Brown Sugar
1/4 cup Sugar
1 Egg
1 teaspoon Vanilla Extract
1 cup Chocolate Candies, (M&M's)
Instructions
Heat oven to 325 degrees.
Place a parchment paper on a baking sheet and set aside.
Melt the chocolate chips in a microwave-safe bowl for 30 seconds. Stir. Microwave an additional 10 to 15 second intervals until morsels are melted. Set aside.
In a medium bowl combine flour, cocoa, baking soda and salt. Set aside.
Using a large bowl mixer beat butter, brown sugar and granulated sugar until creamy.
Add melted chocolate and mix well
Add egg and vanilla extract, mix until well blended.
Toss in the flour mixture and combine gently.
Add in the chocolate candies, (M&M's).
The dough will be more runny than your usual cookie dough. It will seem to harden as time goes by.
Use a small ice cream scoop, (or spoon) and leave about 1-2 inches between cookies. Trust me, you will need to leave some room for growth. These cookies will spread out.
Bake for 9 minutes.
Cool on baking sheet for about 5 minutes. Transfer to a wire rack and cool completely.
Enjoy!
I'm a sucker for anything chocolate, could you tell? Tell me, what's your favorite cookie flavor?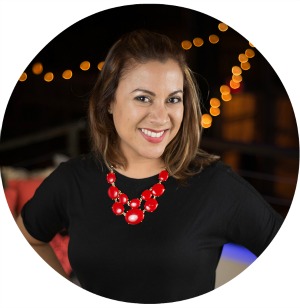 Hi there! I'm Wanda – the creator and author at My Sweet Zepol a healthy food, travel, and lifestyle blog. Passionate about food photography, food styling, entertaining and advocate about creating memories around the kitchen table. With a mission to create easy-to-make meals for the busy family.