Normally around this time of the year, I am busy decorating the house for Spring, buying flowers and freshening every inch of my home to welcome the season. This year I have selected a few items I already owned to give it a new life. Let me share with you some tips on easy decor tray uses for the kitchen.
Learn a few creative ways to use decor trays that you may not have considered. Decorative trays are functional, beautiful and can be used in all areas of your house.
Trays can also protect surfaces from spills or plant leaks. Decorative trays are both functional and beautiful. Like these trays for decorating your home and home office.

Uses for your decor tray in the kitchen
Serving trays have become increasingly popular to include in your home and they are one of the latest trends in interior design.
You may even have a serving tray at the back of the cupboard attracting dust. But dust that baby off and find a use for it!
A serving tray can be a beautiful ornament that you can feature in any room in your house to give it that stylish finishing touch.
Decor tray in the kitchen counter
While it's nice to have things stored in cupboards and drawers, often a few items must be kept on the countertops. Keep them tidy and less cluttered by putting them in a decor tray. 
Works great for spices/oils, a coffee or drink station, kitchen utensils, or baking canisters.
An organized kitchen allows the chef to efficiently maximize her cooking time. Quick in, quick out! Keep cooking essentials within easy reach near the stove: olive oil, vinegar, salt and pepper grinder and anything else you need to whip up your favorite meals.
Dining room
Using a walnut wood serving tray in your dining room can be another way to make a room both organized as well as stylish.
While they can offer a great place to keep ornaments, they are also a great home for items you will need. For example, you could place a serving tray on your dining room table to keep placemats and condiments needed for meal times.
This means they are on hand when they are needed but don't make your dining room space look untidy and cluttered.
While you could get a serving tray that matches the style of your dining room table, you could also go for something bold to show the contrast and make a feature out of it.
Having a serving tray on hand in the dining room can be useful, as it can then be used for its original purpose, which is making transporting things between rooms a lot easier.
Instant bar
Create your own mini bar. Place a large tray on a buffet and top with glassware, drink of your choice and stylish entertaining decor. When you're entertaining, add little dishes with lemon wedges, olives and cherries to garnish.
I also love the idea of a dessert bar or indoor s'mores bar. Make it a party tray and make entertaining fun again!
Pop-up bar
A serving tray can make for a great impromptu bar as part of an everyday feature in a room, or as a place to keep the drinks during a get-together or party.
The creation of this mini bar can be both functional as well as creative, and it provides you with a chic addition to your room.
Traditional liquor bottles can make for a great addition to your serving tray mini bar look, which will make your selection of drinks look more sophisticated.
Decorating a decor tray with what you already have
Decorating on a budget and using what you have on hand to create a home that you love, is pleasing to your eye, as well as functional. It is one of my favorite posting topics.
Add to this easy and affordable and it about sums up what gets me most excited about decorating my home.
This year you all know life has been different for all of us. I am keeping things very simple and using what I have. My local supermarket no longer has a great selection of fresh flowers and my garden is in it's beginning stages and doesn't have lots of blooming flowers yet.
Why you should use decor trays in your home decor
Trays are a decorating staple and offer a lot more than simply a way to carry something. What makes trays of all shapes and sizes a versatile decorating accessory is that they are a fast and affordable way to add style to any room in a variety of ways.
Over the years, I have collected quite a few trays. I also view porcelain serving dishes as trays and use them more for decor than for serving food.
Choose a tray that you like and think of a way to display and use it decoratively in your home.
Decor trays are also a creative kitchen storage idea for small kitchens.
Why are decor trays the most versatile decorating accessory?
Trays are practical, portable, and easily cleaned.
They are also pretty and can add a shot of color to your space and style.
Trays make decorating easy and organizing small items, stylish.
Here are a few ideas to inspire you to use the trays you own in new and different ways. All can be done in 20 minutes or less.
There is no reason to think that only one tray is enough: smaller trays placed within larger ones create visual order and make it easy to organize or separate small items.
A simple white tray can display a delicate stem, your favorite candle and a few essentials. I have one in the corner of my kitchen counter displaying my favorite cooking oils. Making our cooking experience easy and enjoyable.
What to display on a decor tray
Flowers
Candles
Oil bottles
Salt and pepper shakers
Spices
Perfumes
Photos
Jewelry
Books
These are just some of the things you can put on your tray to both keep things organized and looking good.
Why I like organizing with small rectangular trays
I like to use small rectangular trays to corral smaller items on my kitchen counters.
The small trays keep counter clutter organized and makes cleaning the counter easy as the tray can easily be picked up when you need to clean the counter.
When using a tray as a part of your room's decor be sure to add some decorative elements like a vase of flowers, candles something so that it just doesn't look completely functional.
What kind of trays do you have? Go take a look. In 20 minutes you can have a whole new look for any table or countertop in your home.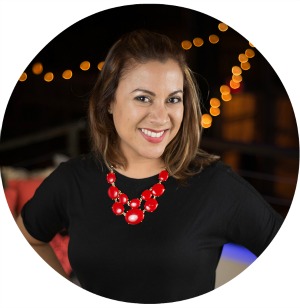 Hi there! I'm Wanda – the creator and author at My Sweet Zepol a healthy food, travel, and lifestyle blog. Passionate about food photography, food styling, entertaining and advocate about creating memories around the kitchen table. With a mission to create easy-to-make meals for the busy family.