I was introduced to cold brew coffee by my daughter and it's my go-to drink on warmer afternoons and busy weekdays. Which means I enjoy cold brew coffee very often. My preferred brewing system is a French press. Now, let's talk about how to make cold brew coffee in a French Press.
What exactly is cold brew coffee?
Not to be confused with iced coffee, cold brew coffee is a type of brewing method that significantly alters the taste of coffee when compared to its usual flavors when brewed with heat. 
Cold brew vs iced coffee. Iced coffee often has connotations of added sweeteners and extravagant toppings, but cold brew coffee couldn't be further from this. Although it has only just become a popular choice in cafes, it's a method that has been around for a long time. The Japanese were even using cold brew methods in the 17th Century!
Why Should You Cold Brew Your Coffee?
This coffee-making method has a few things going for it:
The slow infusion pulls all the great coffee flavor from the beans (and, yes, the caffeine – not to worry!).
But it also leaves behind most of the compounds that can make coffee taste bitter and sour.
This means that cold brewed coffee is incredibly smooth and almost sweet-tasting. Perfect for iced coffee.
You can also adjust the concentration of your coffee, making it stronger or less strong to suit your taste.
French Press Cold Brew Coffee
Yield: 5 servings

Prep Time: 5 minutes

Cook Time: 12 hours

Total Time: 12 hours 5 minutes

One of the easiest ways to make cold brew coffee at home. French Press Cold Brew Coffee is amazing any day of the week.
Ingredients
2/3 cups of Coffee, coarse ground
3 cups Water, room temperature
Instructions
In a French press container add the coffee grounds.
Pour filtered water over the grounds.
Stir with a wooden spoon, this is an optional step, but I love doing it.
Lid the French press and gently press the plunger slightly, just to submerge the grounds so they are all below the surface of the water 0 yet still at the top of the press.
Set at room temperature overnight or for about 12 hours.
Transfer the cold brew to a mason jar or glass carafe.
Notes
Discard coffee grounds in your compost bin or garden.
Nutrition Information:
Yield: 5 Serving Size: 1
Amount Per Serving: Calories: 0Total Fat: 0gSaturated Fat: 0gTrans Fat: 0gUnsaturated Fat: 0gCholesterol: 0mgSodium: 6mgCarbohydrates: 0gFiber: 0gSugar: 0gProtein: 0g

See how simple it is to make cold brew coffee in a French press? This is my self proclaimed cold press coffee maker! It does have limitations because a French press only holds three cups of water, but I find it to be the tidiest and no waste way for me to make cold brew at home.
I can get about five servings out of this recipe when cut with milk or water. And I didn't have to buy anything new to make it.

Tips for successful cold brew coffee
Make sure your beans are coarsely ground: Beans that are ground to a sandy powder, like for drip coffee, can result in an over-infused coffee and make the strained coffee gritty and muddy. Your beans should look like coarse cornmeal, or even slightly rougher.
Use filtered water, if possible: This is just good coffee advice in general, really. Your cup of coffee will have a cleaner, sweeter flavor if you use filtered water to make it.
Steep for at least 12 hours: It's fine to cut this time a little short, but you don't get too stingy. The coffee needs this full time to fully infuse the water. Straining too early can give you a weaker cup of coffee.
Also be careful of over-steeping, which can start to extract some of those bitter flavors we're hoping to avoid. I'd say not to steep for more than 15 hours or so.
Chill your cold brew with coffee ice cubes: Want a totally undiluted coffee experience? Make coffee ice cubes to chill your iced coffee!

There's a reason why coffee shops are selling out of their coffee concentrate. Not only is it refreshing during the warmest months, but it's less acidic than its hot sibling. I find it to have a richer, more subtle and somewhat chocolatey flavor profile too.
During the brewing process, the hot brew methods use heat to extract the bean's flavors offering a more acidic profile while cold brew methods brew coffee at room or refrigerator temperature, like an infusion, offering a sweet, rich, and less acidic profile.
Also, it's a refreshing way to get your caffeine fix in on a hot summer day! And seriously, it's so simple to do.
Grab more tips for making cold brew coffee at home and the basic cold brew coffee rations here.

There are many ways to enjoy cold brew. Here are my favorites:
Stir in your favorite milk for cold brew iced coffee. I use plant based milk.
Stir in egg nog or Coquito as we prefer it (need I say more)?
Use maple syrup or simple syrup to sweeten your cold brew. How about an infused orange simple syrup?
Add a tsp of vanilla extract for an iced vanilla cold brew latte.
Add 1/4 tsp of almond extract for an iced almond cold brew latte (almond extract can be strong, so adjust to taste).
Pour cold brew over ice cream for an affogato, YES!
Make cold brew ice cubes, this prevents your coffee from watering down.
Spike it with a coffee liqueur like Frangelico or Bailey's and make a cold brew "holiday" coffee! Or to celebrate any occasion.
Why Cold Brew Coffee?
Cold brewed coffee has a much better flavor when compared to traditionally brewed hot coffee because it is up to 67% less acidic. Less acid allows you to taste all the flavors that you should be tasting in your coffee.
You will be amazed at the chocolaty, roast-ie, smoothness that you have been missing out on by hot brewing your favorite coffee.
Looking for treats to enjoy your delicious coffee with? Try some of our favorite treat recipes, like these 3 desserts inspired by family recipes, and if you wish to have the recipes in Spanish grab them here. Or you may enjoy a delicious Coffee French Toast Casserole; which you can easily make with the cold brew you made at home. 
As they say, "good things come to those who wait" and if you can wait for your coffee to brew, then you're in for a treat by trying cold brew out!
Have you tried cold brew coffee before? And have you tried making it at home? Maybe this is the time to make it happen!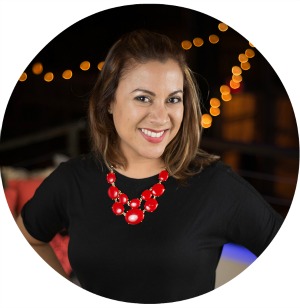 Hi there! I'm Wanda – the creator and author at My Sweet Zepol a healthy food, travel, and lifestyle blog. Passionate about food photography, food styling, entertaining and advocate about creating memories around the kitchen table. With a mission to create easy-to-make meals for the busy family.