If you like sweet and salty caramel popcorn, then you'll love the homemade chocolate popcorn recipe I'll be sharing with you today. You can go straight to it if you wish, it's about halfway through this post. Homemade chocolate popcorn is a healthy snack. Perfect for those busy days when you are working at home, or the office, or at school in between classes.
Why is Popcorn a Healthy Snack?
Popcorn is a whole grain that is high in fiber and volume, both of which help you feel full. It is also high in volume, so it takes up a lot of space in your stomach, despite being relatively low in calories. We have a fun twist to this classic snack. We've added chocolate to give it an additional flavor making it one of our favorite healthy snacks yet.
Eating healthy doesn't apply solely to what you consume for breakfast, lunch and dinner. That is, unless the only time you eat is at mealtimes.
Most of us, however, like to have a couple of snacks during the day. The right snacks can help us to focus mentally by taking the edge off our hunger and can provide a much-needed energy boost until the next meal.
It's important to choose wisely when selecting your snacks. You may eat the healthiest lunches in the office, but all of those salad greens and turkey sandwiches on whole-grain breads won't amount to much if you're noshing on junk between meals.
Junk food such as candy bars, soda and potato chips won't help to power you through the afternoon — and consistent consumption of junk foods can harm your body over the long run by boosting your risk for disease.
One strategy to make sure you're eating the most nutritious snacks is to plan ahead. This way you avoid deciding while standing in front of the vending machine (or your fridge) at 3 p.m. with your stomach growling.
Homemade Chocolate Popcorn
Chocolate Popcorn
Total Time:
1 hour
5 minutes
Homemade chocolate popcorn is a great healthy snack to enjoy anytime during the day. Not only during movie nights!
Ingredients
2  tablespoons Oil, any clear oil of choice
1/2 cup Popcorn, un-popped
1/2 stick Butter
1/2 cup Brown Sugar
2 tablespoons Unsweetened Cocoa Powder
1/2 teaspoon Vanilla Extract
1/2 teaspoon Baking Soda
Sea Salt to taste
Instructions
Heat oven to 200 degrees.
Prep a baking sheet with parchment paper and set aside.
In a large pot with lid add the oil, at medium heat.
Toss in the popcorn
As soon as the first corn pops put the lid on and let it pop on.
When it stops popping remove from the heat and set aside.
In the meantime, in a pot melt butter. This should take about 2-3 minutes.
At this point add sugar and cocoa powder.
When mixture boils and sugar has dissolved remove from the heat.
Add vanilla extract and the baking soda.
Spread popcorn evenly over the baking sheet.
Coat with chocolate mixture, making sure every single popcorn is covered as much as possible.
At this point drizzle sea salt over the chocolate popcorn.
Bake for 30-40 minutes.
Toss about every 15 minutes.
Remove from the oven, let cool completely and enjoy!
Notes
This chocolate popcorn tastes even better the next day—if it lasts that long! 
Stored in an airtight container, it will last for a couple of days.
Nutrition Information:
Yield:

6
Serving Size:

1
Amount Per Serving:
Calories:

199
Total Fat:

15g
Saturated Fat:

5g
Trans Fat:

0g
Unsaturated Fat:

9g
Cholesterol:

20mg
Sodium:

272mg
Carbohydrates:

16g
Fiber:

0g
Sugar:

15g
Protein:

0g
5 Tips to Making Healthy Snack Savvy Decisions
Plan your healthy snacks for the work week and make them at home on Sunday night
Put your snacks in serving-size bags or containers so all you have to do is grab a couple on your way out of the door in the morning (or can easily grab one between Zoom meetings).
A great tip is to set aside individual containers of juicy watermelon or other fruit. Or cut up crunchy celery into sticks that you can munch on at your desk. The point is to plan healthy snacks and plan ahead.
Considering adding a little protein to keep hunger at bay
Pair a handful of heart-healthy nuts to accompany the fruit or a tablespoon of peanut butter for your celery.
Snack on fruits with the skin on them
Don't peel your fruit. The skins on apples, peaches or plums provide extra fiber and will help you feel fuller for a longer period of time. Whole fruits are delicious and portable, easily stored at work or eaten without plates or utensils when you're on the go. Wash the fruit at home so you can eat them immediately at work.
Pack healthy snacks that won't spoil quickly
Consider high-fiber health bars or a cup or two of a nutritious dry cereal. I like to keep a pre-seasoned pack of tuna at my desk that I can easily open and eat with a fork.
Try drinking a glass of water or decaffeinated tea with your snack
Liquids can help you feel full and are good for you too. Research suggests that adequate hydration increases cell metabolism, allows the muscles to work harder by providing oxygen and promotes the body's elimination of waste. We love these detoxifying waters with fresh fruits.
Remember to grab more ideas for healthy snacks for those busy days here.
Some of our favorite and easy healthy snacks recipes are granolas. Like this Pumpkin Pie Spice Granola recipe with cranberries and candied sunflower seeds and this Pecan Pie Granola recipe filled with mini semi-sweet chocolate chips and toasted coconut. Granolas are full of grains, fruits, nuts, and seeds.
Making granola is a fantastic sweet and healthy snack on its own. Remember to always keep your granola on airtight containers for longer shelf life.
What are your favorite go-to healthy snacks for those busy days?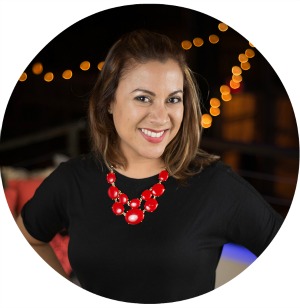 Hi there! I'm Wanda – the creator and author at My Sweet Zepol a healthy food, travel, and lifestyle blog. Passionate about food photography, food styling, entertaining and advocate about creating memories around the kitchen table. With a mission to create easy-to-make meals for the busy family.