A couple of years ago I made some meringue cookies to give as treats to my friends on my birthday. Read about it on the post; Its a celebration with treats to share! It so happened that my birthday was (that year) on a Wednesday night and that is when we held our home group meetings from church in our house. We didn't tell anyone it was my birthday, instead we surprised everyone with a birthday celebration and party favors to take home. That is where the meringue cookies came into place.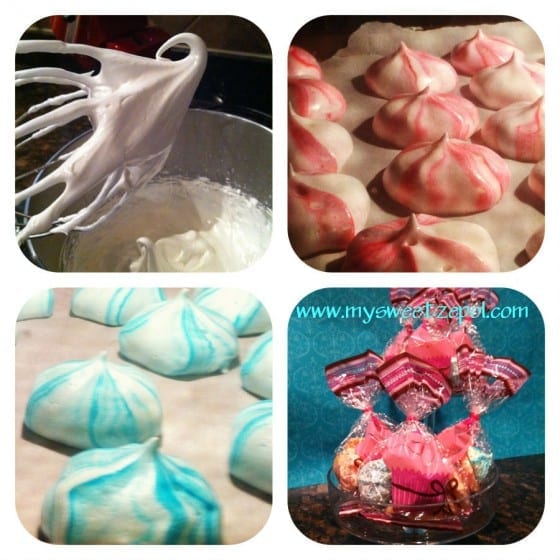 The beauty about this cookies is that you can add your favorite flavoring and some color too. Here, I'll show you how.
Once the meringue is done I take the pipping bag, (I find that the plastic disposable ones work perfectly), and with a tiny paint brush I paint straight lines on the inside of the bag with the color of my choice. I use gel food coloring, if you can, please, stay away from the liquid food coloring since they tend to run and the cookies don't take it well.
I had a request for the recipe, (thank you for your interest on my meringue cookies and hope you enjoy them as much as we do), so here it is!
Meringue Cookies
Ingredients
3oz. Egg Whites (room temperature)
Pinch of Salt
1/4 tsp Cream of Tartar
3/4 cup Powder Sugar (superfine sugar)
1/4 tsp Vanilla Extract
Gel Food Coloring of your choice
Directions
Preheat the oven to 200 degrees. Line a baking sheet with parchment paper.
Beat the egg whites until frothy then add the pinch of salt.
About a minute after add the cream of tartar.
Start adding the powder sugar in small portions, (you can use a tablespoon to help you with this process).
Once all the powder sugar is in beat on high speed for 3 to 5 minutes.
Add the vanilla extract, (use a good quality vanilla it makes a great difference).
At this point the meringue is beautifully done. Once you have prepared the pipping bags with the colors of your choice add in the meringue and start pipping away. I use a big star tip and make them into a nice two bite cookie. I get about 24-28 cookies in all. This will vary on the size of the cookies.
Bake for 2 hours, rotate half way into the cooking time. Once done, turn off the oven, open the door a bit and leave the meringue cookies in the oven to finish drying several hours or overnight.
The meringue cookies can be covered and stored at room temperature for several days.
They make beautiful party favors. Enjoy and share!!!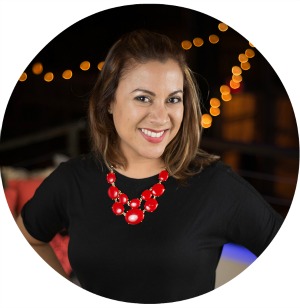 Hi there! I'm Wanda – the creator and author at My Sweet Zepol a healthy food, travel, and lifestyle blog. Passionate about food photography, food styling, entertaining and advocate about creating memories around the kitchen table. With a mission to create easy-to-make meals for the busy family.