December is one of the biggest baking months of the year, as the holidays inspire just about everyone to do a little bit of baking.
BAKING WITH KIDS
It's a classic holiday activity to bake with the kids and while our intentions may start off well and good, things can get stressful.
Set your expectations and think through a few logistics ahead of time. That way you can set yourself and your kids up for a successful and fun baking session!
Keep it Simple
It's okay if you keep the activity limited to one specific step. In fact, shorter bursts of activity may work better with their attention spans.
If you are baking cookies, you can prep the dough and roll it out, and the kids can help cut it out with cookie cutters.
Or they can just do the frosting on baked cookies.
Share Personal Stories as You Bake Together
Be sure to talk about why you're making the recipes. For example, maybe it's a recipe you baked with your own mom or grandmother. For me it was my dad, he loved to bake while we were growing up.
The kids pick up on them and remember them as they grow older.
This makes it more fun to pull out the same cookie recipe year after year and the kids usually love hearing stories about when you or other relatives were kids!
It May Take Longer Than Usual
Baking with kids will take longer than if you are baking on your own or with another adult by your side. Baking with kids is a project of love and requires a lot of your attention and care.
If you're in a rush or you have a lot on your to-do list, then this may not be the best time to get the kids involved in a baking project.
Remember we are making good memories with them, rushing through is not the way to go.
Teach Kids Independency
As kids grow they start to develop independence. Allow your kids to tackle some activities in the kitchen on their own while you observe.
For example, while a little one may need some help cracking an egg, they can stir by themselves.
Kids might need a reminder to pour the milk into the center of the bowl, rather than closer to the rim, they can still do the actual pouring on their own. This will allow a sense of pride, a sense of ownership in the task and great self esteem.
Set Up a Safe Space for Them
The more secure they are, the less you have to worry about random things like a fall happening mid-baking project.
My goal was to have a kids table in our house while my kids were growing up. That way I could give them small tasks to tackle; like decorating cookies or mixing the batter without worrying of them falling off a chair.
Presence Over Perfect
The goal here is to create memories with your kids right now, enjoying their presence. This is not a contest and there's no gold star for the prettiest cookies!
A cookie that looks more like a lump will still taste good and the kids will still have fun decorating it.
Teach Kitchen Tasks
Explain why we wash our hands after touching raw eggs. Show them how to wipe up spilled flour.
Talk through what you're doing so the kids pick up on some of it, even if they aren't quite up to the task of cleaning down the kitchen just yet.
If you're looking for things to make with your kids, these white chocolate candy cane cookies and chocolate mint cake box cookie recipes are both easy, don't require electric mixers, and are yummy treats to share at the end of the baking session!
As for baking tools, here is a great list of essential baking tools for the holidays that includes all of my favorite gadgets to have at hand. For those baked goods you want to make with your kids to give to family and friends then you must check out this post Holiday baking recipes to gift, wrap and deliver this year.
Whether you love having kids in the kitchen or the thought of baking with the kids fills you with fear; the holidays is a great time of the year to make it happen!
Making memories around the kitchen table with kids is a great way to bond while teaching them great tasks. Kids get such a sense of pride when they make something others can enjoy. Start baking with your kids this year and see what happens!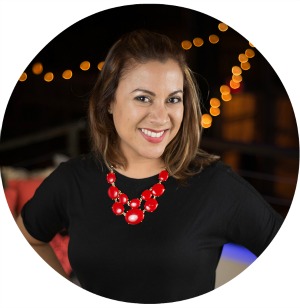 Hi there! I'm Wanda – the creator and author at My Sweet Zepol a healthy food, travel, and lifestyle blog. Passionate about food photography, food styling, entertaining and advocate about creating memories around the kitchen table. With a mission to create easy-to-make meals for the busy family.