The summer berry season is a real treat. This is an easy way to enjoy berries with cheesecake, which is a refreshing change from traditional pudding and fruit parfaits. Today's recipe is all about berries cheesecake biscoff parfaits. The best no-bake dessert you can make this summer.
This No-Bake Strawberry Cheesecake Parfait has layers of buttery biscoff crumbs, fresh macerated strawberries, and a creamy cheesecake filling. It's a great travel-friendly, make-ahead dessert for sharing with friends, especially in the summer!
Parfaits are a fabulous, creamy, sweet treat that you can enjoy at any time of day. From healthy granola-and-fruit breakfast parfaits to decadent layered desserts, these sweet confections are worth a try.
What is a Parfait?
The word "parfait" actually means "perfect" in French. The origin of parfait can be traced back to references of a dessert in French cuisine in 1894. They're most often prepared in tall glasses known as parfait glasses and are typically made with layers of ingredients.
A parfait is a sweet dessert made of layered ingredients in a tall glass. If you order a parfait at your favorite ice cream shop, it may have layers of ice cream, fruit sauce, and whipped cream.
These sweet little parfaits take everything that's good about cheesecake and make it way easier. You get the rich creaminess, buttery biscoff cookie crumbs and bright berry flavor all in a fun individual portion.
While many desserts require baking in the oven, this is a great dessert that requires no heat at all, making it a perfect recipe to make on a hot summer day.
They are a wonderful make-ahead dessert, travel friendly, no bake, crowd pleasing, and take minutes to throw together (besides maybe slicing strawberries which you can do ahead of time).
This dreamy, creamy twist on strawberry cheesecake can be assembled in any individual containers you have on hand, even plastic cups work.
The layers are very forgiving, so really any size works too, but I recommend clear containers if you have them, because these parfaits are just so pretty with their contrasting layers.
How to Make Biscoff Crust
The crust for this easy no-bake cheesecake is just biscoff cookie crumbs. Actually it isn't really a crust at all, it is just a layer of crushed biscoff cookies mixed with melted butter.
I used a food processor to make the crumbs for the parfaits. The biscoff cookie crumbs act as a base for the dessert and add a bit of texture to the final dessert.
No-Bake Cheesecake Filling
If you are making a traditional baked cheesecake, like this mini chocolate chip cheesecakes, the filling would have a bunch of eggs and cream that need to be baked into a solid cake. Or even this dairy free cheesecake.
But this dessert doesn't need to stand on a dessert platter, you are just going to scoop it out of the serving glass with a spoon! So the no-bake cheesecake filling is very simple.
The filling is a mixture of cream cheese, powder sugar, and cool whip. That is it, the three ingredients are blended together in a mixer for a creamy and cheesy filling.
I used half an 8 ounce block of cream cheese which was enough for 6 desserts, perfect for our family size. For a larger crowd you could use smaller glasses or double the recipe of the cheesecake mixture.
Assembling the Cheesecake Parfaits
I wanted this dessert to have a patriotic theme, with layers of strawberries and blueberries combining with the cheesecake filling to make a red, white and blue dessert.
Start with a tall glass with layers of biscoff cookie crumbs, sliced strawberries, fresh blueberries. Then add a layer the cheesecake filling and repeat.
Finally top with fresh berries, biscoff crumbs and a fresh mint leaf for decor (this is optional).
Berries Cheesecake Biscoff Parfaits
Fresh berries and a biscoff crust makes these cheesecake parfaits the best no-bake dessert to enjoy year round. Especially during summertime!
Ingredients
8.8 0z Biscoff, crumbled
3 tablespoons unsalted Butter, melted
4 oz Cream Cheese, softened
1/2 cup Powder Sugar
8 oz Cool Whip Whipping Topping, thawed
fresh Strawberries, sliced
fresh Blueberries
Instructions
Mix the crumbled biscoff cookies with the melted butter, using a fork and set aside.
Beat cream cheese with powder sugar in a mixer until creamy.
Slowly fold in the Cool Whip.
Layer a tablespoon of biscoff crumbs mixture on a tall serving glass, top with berries, then add a layer of the cheesecake mixture. Repeat at least once more if your glass allows for it.
Top with a spoonful of the cheesecake mixture, fresh berries and a mint leaf- (for presentation but completely optional).
Notes
When entertaining make ahead of time and serve when ready to enjoy!
Nutrition Information:
Yield:

6
Serving Size:

1
Amount Per Serving:
Calories:

362
Total Fat:

25g
Saturated Fat:

16g
Trans Fat:

0g
Unsaturated Fat:

6g
Cholesterol:

38mg
Sodium:

106mg
Carbohydrates:

35g
Fiber:

0g
Sugar:

30g
Protein:

2g
Make Ahead Parfaits
During the hot summer months it is nice to not have to turn on the oven to make a delicious dessert. This dessert is also a great one for making ahead of time.
If you have a party or gathering you can make these berries cheesecake biscoff parfaits the day before and store them in the refrigerator until you are ready to serve them. That means more time socializing with your friends, not working in a hot kitchen.
Containers for No Bake Mini Cheesecake
There are a lot of different things you could use for making these adorable parfaits. They would work well in a small, half pint sized mason jar or in yogurt jars. You could also buy small plastic dessert cups, which would be perfect for hosting a large party.
I used tall glasses mainly because I own a lot of milkshake glasses and love the presentation!
Small desserts in individual serving sizes are a great way to indulge without guilt! A huge piece of cheesecake is too heavy for a summer dessert. But a small jar of creamy berries cheesecake parfaits with a biscoff crust is just right, especially when it includes fresh seasonal fruit like blueberries and strawberries.
Tips to Make Easy Cheesecakes Parfaits
There are a few things that will ensure this dessert is quick and easy to make.
Make sure the cream cheese is at room temperature before you mix the no bake cheesecake filling. Get it out an hour before you plan to make the dessert.

If you are transporting this dessert, like to a 4th of July party, dessert shooter glasses are slender and perfect mini individual portion, but not practical for transportation. Making it in small mason jars with lids or yogurt cups with lids will make it more easily portable. You may have seen these yogurt cups with lids on previous recipes here, like in this lemon curd post.

Standard spoons won't fit into shot glasses. So make sure you have

small dessert spoons

if you are making this dessert in shot glasses. If you are using taller glasses like I am here take a look at these longer spoons, which are the perfect fit!
Variations on Parfaits
Obviously these cute little desserts are perfect for Memorial Day or the 4th of July. But you don't have to make them red, white and blue. You could use any fresh fruit that is in season.
Blackberries, kiwi, cherries or bananas would also taste amazing in this easy dessert. Almost any fresh fruit goes well with cheesecake, so use your imagination and figure out what combinations your family will like best.
Now, share with us, what's your favorite fruit combination for these berries cheesecake biscoff parfaits.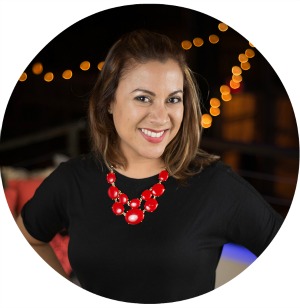 Hi there! I'm Wanda – the creator and author at My Sweet Zepol a healthy food, travel, and lifestyle blog. Passionate about food photography, food styling, entertaining and advocate about creating memories around the kitchen table. With a mission to create easy-to-make meals for the busy family.