Roasted red peppers is one of my favorite recipe components. It's one of those ingredients often found on Latin dishes. It's also one of my favorite flavors found on hummus. Below you will find, what I consider to be the best homemade roasted red pepper hummus recipe by far.
I remember seeing my mom roast red peppers on the stove. They offer rich, deep bell pepper flavor and a lovely, tender texture. I love adding roasted red peppers to dips, salads, sandwiches and more.
Making hummus at home is easier than most of us think and most often than-not we have part of the ingredients at home already. For many years I felt like eating healthy was more expensive than I could afford. But, throughout the years I learned a trick or two to keep my costs down and yet make healthier food choices for me and my family. Here is an article that covers 7 tips and 7 recipes for eating healthy on a budget.
After researching several hummus recipes I found a tip I had to try. Cook canned chickpeas until it breaks up. It will have a mushy consistency. This step takes about 20 more minutes from other hummus recipes, but trust me, it is so worth it. The results are a smooth and creamy hummus. Perfection!
If you love chickpeas and are looking for another recipe idea to make at home with them you must check out this easy roasted chickpeas meatless fajitas recipe or this meat-lovers garbanzo dinner meal. Perfect for any day of the week.
How to Make the Best Hummus
1) Mushy chickpeas
Cook canned or leftover cooked chickpeas according to step 1 in the recipe's instructions. This only adds 20 minutes to your hummus-making time, and it's the best tip for making perfect hummus at home.
Want to cook your chickpeas from scratch? You sure can—see the recipe notes.
2) Great tahini
Store-bought tahini in the U.S. varies widely in flavor, with some of them so bad that they've ruined my hummus. I used an organic tahini at my local super market.
Another great tahini is Trader Joe's organic tahini, which is made from Ethiopian sesame seeds.
Don't skimp on the tahini, either. You need to use 1/2 cup tahini per can of chickpeas for rich and irresistible hummus.
3) Ice-cold water
Why do you always want to mix ice-cold water with tahini? Another trick that I learned from my research. It helps make the hummus light and fluffy, and lightens the color of the tahini to a pale ivory color.
4) Fresh-squeezed lemon juice
Store-bought lemon juice makes your hummus taste stale and sad. Buy fresh lemons and your humus will taste fresh and delicious.
5) Garlic, mellowed in lemon juice
Mince the garlic in the food processor or blender with the lemon juice and let that mixture rest for a few minutes, the garlic will lose its harsh, raw bite and mellow out.
6) Olive oil, blended into the hummus and drizzled on top
One tablespoon of olive oil makes the hummus taste luxurious and creamy. This step is highly recommended.
7) Ground cumin
Cumin is a common ingredient in plain hummus recipes, and makes the hummus taste a little more special. Ground cumin is another ingredient very commonly found in Latin dishes. I always have it in my pantry.
8) Roasted Red Pepper
Before you begin, set aside a tablespoon of your roasted red pepper to put on your final dish as a colorful garnish. It makes a great presentation.
Ok, let's make some hummus! I'm dying to hear how this hummus turns out for you. Please let me know in the comments and tell me if overcooking your chickpeas makes all the difference!
Now, it's time to get this roasted red pepper hummus going!
Roasted Red Pepper Hummus
Learn how to make the best homemade roasted red pepper hummus! It's smooth, creamy and light. This hummus recipe is easy to make—no peeling chickpeas or overnight soak required. Recipe yields about 3 cups.
Ingredients
1 can (15 ounces) Chickpeas, rinsed and drained
½ teaspoon Baking Soda
¼ cup Lemon Juice (from 1 ½ to 2 lemons), more to taste
1 medium-to-large clove Garlic, roughly chopped
½ teaspoon fine Sea Salt, to taste
½ cup Tahini
2 to 4 tablespoons Ice Water, more as needed
½ teaspoon Ground Cumin
1 tablespoon Extra-Virgin Olive Oil
3/4 cup Roasted Red Peppers, drained and sliced into strips
Roasted Red Peppers, diced, for garnish - optional
Instructions
Place the chickpeas in a medium saucepan and add the baking soda. Cover the chickpeas by several inches of water, then bring the mixture to a boil over high heat. Continue boiling, reducing heat if necessary to prevent overflow, for about 20 minutes, or until the chickpeas look bloated, their skins are falling off, and they're quite soft. In a fine-mesh strainer, drain the chickpeas and run cool water over them for about 30 seconds. Set aside (no need to peel the chickpeas for this recipe!).
Meanwhile, in a food processor or high-powered blender, combine the lemon juice, garlic and salt. Process until the garlic is very finely chopped, then let the mixture rest so the garlic flavor can mellow, ideally 10 minutes or longer.
Add the tahini to the food processor and blend until the mixture is thick and creamy, stopping to scrape down any tahini stuck to the sides and bottom of the processor as necessary.
While running the food processor, drizzle in 2 tablespoons of ice water. Scrape down the food processor, and blend until the mixture is ultra smooth, pale and creamy. (If your tahini was extra-thick to begin with, you might need to add 1 to 2 tablespoons more ice water.)
Add the cumin and the drained, over-cooked chickpeas to the food processor. While blending, drizzle in the olive oil. Blend until the mixture is super smooth, scraping down the sides of the processor as necessary, about 2 minutes. Add more ice water by the tablespoon if necessary to achieve a super creamy texture.
Taste, and adjust as necessary. At this stage you may want to add more salt, or even more lemon juice.
Scrape the hummus into a serving bowl or platter, and use a spoon to create nice swooshes on top.
Top with garnishes of your choice, and serve.
Notes
Leftover hummus keeps well in the refrigerator, covered, for up to 1 week.
Nutrition Information:
Yield:

12
Serving Size:

1
Amount Per Serving:
Calories:

80
Total Fat:

7g
Saturated Fat:

1g
Trans Fat:

0g
Unsaturated Fat:

6g
Cholesterol:

0mg
Sodium:

146mg
Carbohydrates:

4g
Fiber:

1g
Sugar:

1g
Protein:

2g
How To Cook Dry Chickpeas For This Recipe
In a large saucepan, combine 5 ounces (¾ cup) dried chickpeas and ½ teaspoon baking soda, and fill the pot with water. Bring the mixture to a boil over high heat and skim off the surface foam as needed.
Continue boiling over medium-high, adding more water if you start running out, until the chickpeas are very mushy and falling apart, about 1 hour to 1 hour 15 minutes.
Drain in a fine-mesh colander, rinse under cool running water, and drain well before using. Start the recipe at step 2.
One of our goals as a family is to eat good food that is healthy for us and inside our budget. It can be done. I found these eating healthy on a budget tips to be very useful, plus there are 7 delicious meal ideas you may love as well.
Did you make this recipe?
Please let me know how it turned out for you! Leave a comment below and share a picture on Instagram with the hashtag #mysweetzepol.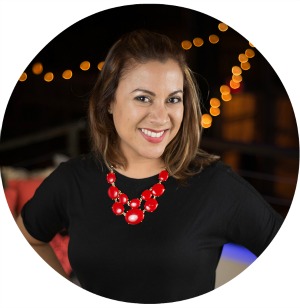 Hi there! I'm Wanda – the creator and author at My Sweet Zepol a healthy food, travel, and lifestyle blog. Passionate about food photography, food styling, entertaining and advocate about creating memories around the kitchen table. With a mission to create easy-to-make meals for the busy family.