There's a very wide array of Halloween decorations found in today's marketplace. Depending on what type of Halloween display you are setting up and who is going to see it, the styles of decorations you can buy really do run the gamut.
From cute and whimsical to quite ghastly, Halloween decorations can be found to suit most anyone's decorating needs.
5 Types of Halloween Decor
Elegant Halloween Decor
You may be attracted to a monochromatic look with all-white Halloween pumpkins and another accent color to tie everything together; like gold, black, or rose gold. 
Theme Halloween Decor
When choosing Halloween decorations, tie your items together with a common theme. From ghosts to mummies to witches or simply decorating with pumpkins, a cohesive theme can make your decoration shopping easier.
Focus Halloween Decor on One Color Scheme
A classic orange and black color scheme for your decorations always looks great.
You could also try a creepy black and green color scheme or go sophisticated with black and silver. 
Try not to mix more than three of these bold colors. This will keep your house looking put together and sophisticated.
DIY Craft Halloween Decor
Choose a few craft projects to complete your decoration list so the little ones can get involved as well. Decorating for any holiday is always a fun experience and getting your kids on board makes it even better.
Scare Factor
From fake spiders to skeletons, Halloween decorations are all about the scare. If you want to create a dramatic set-up, don't forget to include a staple Halloween item that's scary to make your decorations stand out.
5 Halloween Decoration Ideas
Hanging Decor
Halloween decorations that hang from various structures are especially effective when it comes to creating a spooky and ghostly effect. A hanging prop can look as though it is floating almost like an apparition or can be put someplace unexpected to create a little bit of extra scare factor.
Hanging props can be easily hung at eye level to make sure that your visitors visualize them more readily, creating a bigger impact as well.
Wall Decor:
A scary Halloween ambience is easy to create with a little bit of quick wall transformation. Everyday photos and pictures can be replaced with scary, haunted and ghoulish pictures. Spider webbing can be draped and hung from corners and small spaces.
Clever poster-like wall coverings can instantly transform an ordinary room into a mad scientist's laboratory or create the look of a haunted house.
Gory Details
There are times when only the most macabre and grisly Halloween decorations are going to work when setting up a spooky or terrifying Halloween scene.
Haunted houses, spook alleys and other such places are expected to have some pretty gnarly looking, not to mention hideous decor pieces lying about that are designed to both scare as well as send shivers down most anyone's spine.
Gruesome-looking fake body parts, monstrous beings, rodents, ravens and bats, ghastly zombies, mummies, black cats or even an insidiously scary clown or two–all these and many more Halloween decor items can be a huge part of creating those extra gruesome special effects that at Halloween time, most everyone loves.
Yard or Outdoor Decor
Decorating the outside of your home for Halloween is almost more important than decorating the inside. These days, there are all sorts of Halloween decorations that are designed specifically for outdoor use and will quickly transform the look of your ordinary home into something that appears a lot more eerie and frightful.
Tombstones and coffins can transform your yard into a makeshift graveyard, while giant and colorful inflatable decorations can make a bold and whimsical statement that your entire neighborhood can appreciate for Halloween.
If you are looking to be the spookiest house on the block, here are some outdoor Halloween decorations ideas you'll love!
Now-a-days, you can also find more elegant takes on Halloween outdoor decorating. Like a classic black, white and orange look!
Lighted Halloween Decorations
Decorations that use light are a popular way to decorate your home for Halloween. Imagine a row of illuminated skulls marking the pathway up to your front door?
From lanterns, light strings and lamps. Or even the use of black or strobe lights to set that perfect frightening Halloween mood. The use of lighting is an effective way to create an extra scary sort of Halloween fun.
Halloween decorating, an ancient tradition that continues to be very popular now in our modern day.
If you think decorating outdoors is fun, wait until you see all you can do indoors! Here are some of my favorite indoor Halloween decor ideas to get you in the Halloween spirit.
And let's not leave the candies out of sight. Halloween is not so much without candies and treats. No decor can substitute a sweet treat!
We eat lots of treats. Some of which are homemade. Check out these Halloween party food ideas the entire family will love.
When you have teens in your life you may have found yourself changing things up during Halloween time. In case you don't know, we don't go out trick-or-treating. But, it's always been a goal of mine to make memories with my kids. Whether we go out on a night like Halloween night or not.
In our home we have two teenagers and even though we do not dress up for Halloween or go out trick-or-treating we do enjoy a fun movie night. It's a night where we all choose a movie and take turns watching them all.
Plus, here are other things you can do during Halloween with teenagers!
Share with us, what is your favorite Halloween or Fall decorating tip or style?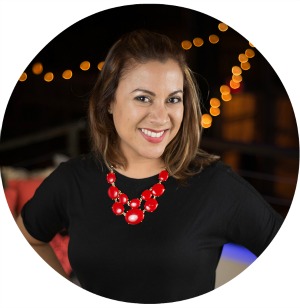 Hi there! I'm Wanda – the creator and author at My Sweet Zepol a healthy food, travel, and lifestyle blog. Passionate about food photography, food styling, entertaining and advocate about creating memories around the kitchen table. With a mission to create easy-to-make meals for the busy family.