Have you made homemade blueberry sauce before? This easy blueberry lemon sauce comes together in just a few minutes. Try a spoonful with your morning yogurt, dolloped over a stack of pancakes, or spooned on top of cheesecake for a delicious treat!
One of the great things about this easy blueberry lemon sauce is that you can use fresh or frozen berries, which means you can easily make it year-round. It will also keep in the refrigerator for several days or freeze well for a few months. You can even prep it ahead of time and it's ready to use when you need it.
What you'll need for this recipe
This homemade blueberry topping requires few ingredients, but packs in tons of blueberry flavor. Here's what you'll need to make the sauce:
Blueberries:

If using fresh blueberries, look for ones that are firm and smooth with few blemishes.

Granulated sugar:

Sweetens the sauce without making it too sweet.

Water:

You need just 1/4 cup of water to thin out the sauce.

Lemon zest plus lemon juice:

Freshly squeezed lemon juice is always best.

Cornstarch:

Thickens the sauce. Be sure to mix it with a little cold water before adding it to the saucepan to prevent clumping.
The thing I love the most about this easy blueberry lemon sauce is the fact that it comes together on the stovetop in less than ten minutes with just a few staple ingredients.
That's right. Fresh or frozen blueberries, water, sugar, lemon juice and cornstarch are all you need.
Easy Blueberry Lemon Sauce
Yield: 6 servings

Prep Time: 5 minutes

Cook Time: 10 minutes

Total Time: 15 minutes

This easy blueberry lemon sauce is made with fresh blueberries, sugar, lemon zest, lemon juice, and corn starch. Thick, sweet, and perfect for topping pancakes.
Ingredients
3 cups Blueberries, fresh or frozen
1 cup of Water
1/2 cup Sugar
1 1/2 tablespoons Cornstarch dissolved into 3 tablespoons water
Zest of 1 Lemon
Lemon juice of 1/2 Lemon
Instructions
Place 1 1/2 cups blueberries in a small saucepan. Cover with water and add sugar, lemon zest and lemon juice. Heat over medium-high heat until mixture comes to a low boil and blueberries just start to break apart.
Add dissolved cornstarch to saucepan and bring mixture to a rolling boil. Turn heat down and simmer on low heat for 2-3 minutes, or until sauce reaches desired consistency. Add water, one tablespoon at a time, if the sauce gets too thick.
Remove from heat. Add remaining blueberries and stir gently. Serve warm or cold.
Nutrition Information:
Yield: 6 Serving Size: 1
Amount Per Serving: Calories: 121Total Fat: 0gSaturated Fat: 0gTrans Fat: 0gUnsaturated Fat: 0gCholesterol: 0mgSodium: 4mgCarbohydrates: 31gFiber: 2gSugar: 25gProtein: 1g

The best part about a good blueberry sauce (or syrup) besides the incredible flavour, is that it can be made any time of year with either fresh or frozen berries. Plus the added bonus that they are filled with good antioxidants.
And you can literally whip up a batch of this sauce in minutes. If you keep some frozen blueberries on hand, you can have homemade blueberry sauce any time you'd like.
Ways to use blueberry sauce
Once it cools, you can top this sauce on just about anything that you like. Here are a few of my favorite ways to use this blueberry sauce:
How long does blueberry lemon sauce store for?
Store leftover blueberry sauce in an airtight container in the refrigerator for up a week.
Can I freeze blueberry lemon sauce?
Yes! This sauce will freeze well in a freezer bag / container for up to 3 months. Thaw overnight in the refrigerator and warm in a saucepan on the stove top until the sauce is smooth.
Baking tips
You can use fresh or frozen berries for this recipe.

If using frozen berries, there's no need to thaw them first.

The sauce will be a little thin while it's warm, but will thicken more as it cools and after it's been refrigerated.

If you freeze the sauce, I suggest thawing it overnight in the refrigerator and then warming it up in a saucepan until it's nice and smooth.
I like to store my blueberry sauce in a glass jar in the refrigerator, where it will keep for about a week. This blueberry sauce is so versatile though, it rarely lasts a week around here.
If you're looking for an easy way to make your desserts or breakfast recipes extra special, try adding some of this delicious homemade blueberry lemon sauce. No one has to know how easy it was to make!
Fresh homemade blueberry lemon sauce ready in less than 10 minutes is a win in my book. Transform your pancakes, waffles, yogurt, or desserts and make this summer the best one yet.
Share with us, have you made blueberry sauce before? And what's your favorite way to enjoy blueberry sauce?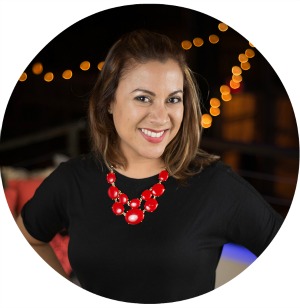 Hi there! I'm Wanda – the creator and author at My Sweet Zepol a healthy food, travel, and lifestyle blog. Passionate about food photography, food styling, entertaining and advocate about creating memories around the kitchen table. With a mission to create easy-to-make meals for the busy family.