I partnered with Zulily to bring you this post. While I may have been compensated, all opinions are my own.
If you are like many of us you have your favorite dishes and favorite side dishes for the holidays. We sure do. We also have made a twist on a few traditional side dishes for Thanksgiving that you will want to try this year.
This year Thanksgiving is looking a little different than past years. We'll be mostly staying home or gathering with a smaller number of guests. You can find us gathering around the kitchen table with loved ones, giving thanks and celebrating them with good food, loud laughter and music – or board-games. We do like doing them all.
When it comes to food we take side dishes very seriously. Side dishes are meant to compliment the turkey we enjoy during this holiday season. Here are five twist on traditional side dishes for Thanksgiving:
STUFFING – When it comes to stuffing as a side dish you will usually find it made with day old french bread in cubes, onion, celery, a few herbs, and chicken stock or broth. I want to introduce you to Prosciutto Cornbread Stuffing, it's a recipe I have been making for years. Always during Thanksgiving and is the most requested side by family and friends to date. Made with prosciutto, cornbread, some herbs, onion and celery are also included and to give it moisture we also add chicken stock or broth.
GREEN BEANS – During Thanksgiving you may find a traditional green bean casserole dish placed right by the main dish – aka – the turkey. My kids were never huge fans of a green bean casserole, but they do eat green beans which lead me to tweak the recipe all the way down to a simple, yet delicious, Sweat and Chile Green Beans or maybe you will like our Lime Cilantro-Habanero Grilled Green Beans instead. You can't go wrong with either option. It's, as I mentioned, simple but so good. It brings some heat to the meal without being overpowering. It's a "kids approved" side dish.
RICE – You may or may not be serving rice as a side dish during Thanksgiving at your table. Rice is definitely a dish we, Hispanics, serve year after year during the holidays. Some make a pot of white rice, some use a Pilaf rice recipe, we make what we call Arroz con Gandules. It's a rice we make with seasonings, ham (or bacon), Pigeon Peas, tomato paste (or tomato sauce), chicken stock or broth and other items that add great flavors to this side dish.
PASTA SALAD – You may serve a traditional mac and cheese pasta as a side dish during your Thanksgiving dinner. We have served mac and cheese on occasions as well, kids love mac and cheese – and adults do as well. During Thanksgiving we enjoy a twist version by replacing the cheese sauce with mayonnaise and adding very small – diced onion and peppers, seasoning with salt and pepper and that's it. Sometimes we'll add small diced ham to add another level of texture and flavor to the pasta salad. It's a refreshing salad and makes a wonderful filling side dish.
BREAD – No meal is ever complete without a carb side dish. Whether you cut a french loaf (baguette) or place a basket filled with rolled buns, you probably enjoy some sort of bread with butter during your meal. We have made Parmesan Garlic Knots for years and everyone loves them. They are moist with olive oil and a mixture of seasonings and garlic paste. You will not be able to just enjoy one. It's also a popular dish, and so easy to make. Parmesan Garlic Knots is a side dish we enjoy throughout the year, especially when we are enjoying a pasta dish. Another "kids approved" side dish.
Grab more easy Thanksgiving side dishes ideas and tips you can enjoy this year and many other years to come.
How fun was that? Please share with us some of your family's favorite side dishes you enjoy during Thanksgiving and if any are a twist of a traditional recipe your family has made and served for generations.
We hope you spend a lovely holiday season with your loved ones, whether you are opening the doors of your home or doing a virtual dinner. Anything goes this year. As long as you are all happy, filled with good health and good fortune.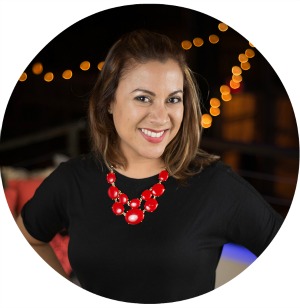 Hi there! I'm Wanda – the creator and author at My Sweet Zepol a healthy food, travel, and lifestyle blog. Passionate about food photography, food styling, entertaining and advocate about creating memories around the kitchen table. With a mission to create easy-to-make meals for the busy family.