The perfect side dishes for your Easter dinner ideas!
Ham and lamb might be the star of the show during Easter dinner, but the side dishes really make the meal. Want some side dishes ideas for your Easter dinner? Here are some of the best side dishes for Easter dinner. Plus they are all super easy to make and kid-friendly.
I am always searching for a side dish that would complement any meal without competing. A great marriage of flavors. Especially when it comes to Easter dinner. I have a few Easter dinner ideas with a Latin twist that you may also enjoy to take a look at.
Celebrate this spring holiday with fresh vegetables and Easter side dishes designed to embrace the season.
From crisp green beans, and sautéed carrots, to sweet roasted asparagus I believe there should be something for everyone to enjoy at the dinner table. Especially during Easter dinner.
We're confident these recipes are destined to become family traditions. Go ahead: Savor green vegetables, embrace distinct textures, and amp up all the flavors. After all, spring is finally here!
5 Easter Side Dishes To Complete Your Meal
1. Green Beans
First up, these crowd-pleasing, green beans. Green beans with a twist that will have you wanting seconds. Lime cilantro-habanero grilled green beans will be on your dinner table many, many times. Is that good!
Our second green bean recipe is just as good and also with a Latin twist. Sweet and Chile Green Beans is the perfect side dish for those loving a little heat in their Easter dinner dishes. With sweet and spicy flavors suited to please everyone!
2. Boniato Mash
If you are considering making Lamb as your main Easter dinner dish a great side dish would be a Boniato mash. Take a look at the entire recipe for Balsamic Glaze Lamb with Boniato.
3. Grilled Veggies
Another Easter side dish in this recipe is grilled veggies which includes carrots, asparagus and brussel sprouts. You will also want to check out the table setting for this meal. It's lovely and you can easily recreate it.
4. Orzo or Pasta
Orzo is one of my go to pastas. I love the way they resemble rice. One of the ways I can get my girls to eat vegetables is by making broccoli and sweet peppers orzo. They'll devour the whole thing without complaints.
5. Garlic Knots
You can't go wrong with garlic knots. They are not only super easy to make but also kids and adults approved! I must warn you, once you try one of these Parmesan and Garlic Knots you won't be able to stop eating them, they are highly addictive. In a good way.
Garlic knots make a great side dish for an Easter dinner, especially when it's by the side of a delicious ham.
If you are like me, you have a list of side dishes you go to over and over. They are either your favorite or the favorite of someone at home.
Or maybe you look for inspiration on the internet. Either way you go on about it; The best side dishes for Easter dinner are those that you and your family will enjoy most. Make Easter side dishes your own and enjoy the company of those around your kitchen table. Don't forget to grab some fun Easter dinner ideas with a Latin twist here.
What are some of your favorite Easter dinner ideas and Easter side dishes?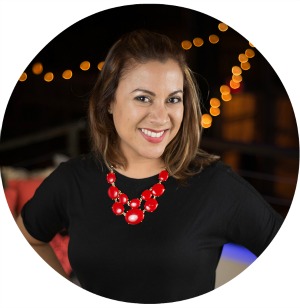 Hi there! I'm Wanda – the creator and author at My Sweet Zepol a healthy food, travel, and lifestyle blog. Passionate about food photography, food styling, entertaining and advocate about creating memories around the kitchen table. With a mission to create easy-to-make meals for the busy family.